For the past few weeks, I've been working on a web app called oTranscribe. It's designed to take the pain out of transcibing recorded interviews by integrating an audio player with a text editor.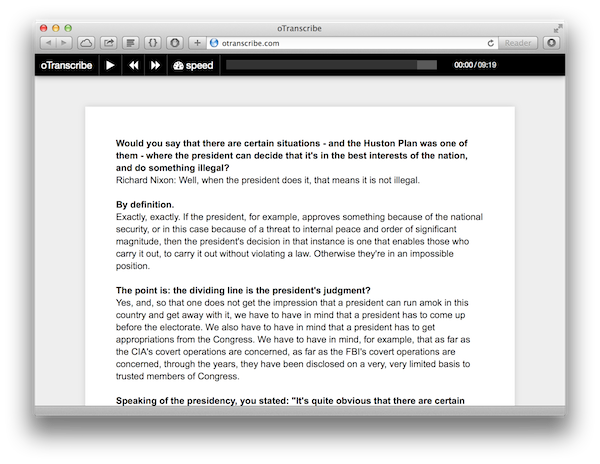 Key features:
Save time when transcribing - no need to switch between an audio player and text editor.
Never lose your work - your transcript is automatically saved, even if you close the window.
Convenient keyboard controls to pause/resume, skip forward/back and even insert a timestamp.
Interactive timestamps for swift navigation around audio files.
Cutting-edge HTML5 technologies provide a smooth, desktop-like experience.
Open sourceon GitHub until the MIT License, so anyone can help develop it (or even create their own custom version).
Free to use, forever. Yes, really.
Although similar projects exist, oTranscribe is to my knowledge the only one both open source and able to run in a browser.
oTranscribe is currently a work in progress, and I'd love to hear your feedback. You can contact me on Twitter at @elliot_bentley or @oTranscribe, or via email.
Published .